Welcome to The Blog.
Check back here for news, tips, quips, photos, books, training opportunities, and more. Better yet, subscribe via email!
See something you like? Don't forget to share it!
Contribute.
YOU are important. Do you have an article, blog post, or personal experience to share on DTIWOMEN.COM or our Facebook Page?
Subscribe.
Subscribe to DTIWOMEN.COM to receive an email each time we post something new.
It's easy. Just enter your email address in the field indicated below.
Did you see this?
http://www.abc15.com/news/local-news/water-cooler/woman-fights-off-would-be-robber-with-back-scratcher
MARION, IN – An intruder didn't get away with anything except for injuries after an Indiana couple sent him running from their home.
A robbery suspect broke into a detached garage in Marion, Ind. on Monday night, police said.
The suspect reportedly grabbed a large wrench and duct tape and then broke some glass to get into the couple's home. The homeowners, believed to be in their 60s, confronted the man after he broke in through their back door.
Authorities said the suspect asked Don Kearney for his gun, but he said he did not have one. That's when Patty Kearney asked the suspect if he had a gun. He said no and she began beating him with a wooden back scratcher she had been carrying, police said.
Patty then picked up the large wrench the suspect had laid down and continued to beat him, police said.
"I don't think he expected an overweight woman on oxygen to attack him. I really don't," Patty said.
Patty said the intruder had ordered her to use the duct tape to tie up her husband, but she said she knew if she tied him up they would be done. She said anger eclipsed her fear and she instinctively fought to protect her  family.
The suspect ran away from the home and the couple was not injured. The man was described as white, 5 feet 7 inches and was last seen wearing a green sweatshirt and a plastic mask over his face.
The Kearneys have since added security measures to their home including an alarm system.
This is an interesting article that appeared in Combat Handguns (May 2014) about a class Vicki taught in September 2013 at Hillsdale College in Michigan.
http://www.personaldefenseworld.com/2014/01/preview-self-defense-101-ladies-liberty/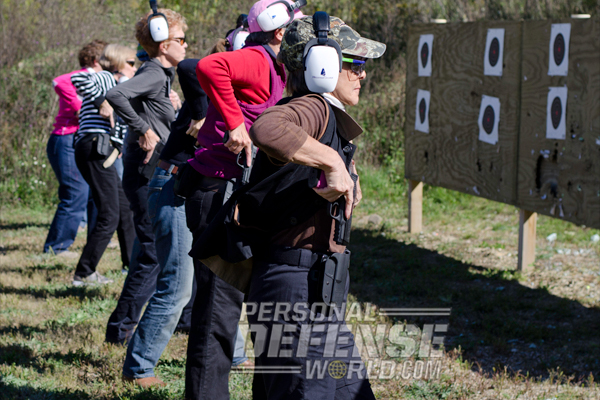 For the Ladies Only column in the May 2014 issue of COMBAT HANDGUNS, contributor Betsy Brantner Smith attended a recent Ladies for Liberty self-defense course at Michigan's Hillsdale College. Brantner attended the course with a group of women from eclectic backgrounds, a group she described as including "doctors, ranchers, horsewomen, teachers, tennis players, homemakers and more."
"The first morning of this five-day event began in the classroom with founding instructor Bonita Fraim talking about
 the range bags we'd been issued and how students could purchase the same Smith & Wesson M&P handgun that we'd be using all week. Smith & Wesson was a major sponsor of the event, providing range bags, hats, T-shirts and other free goodies for the students," Smith says in her article.
Smith continues, "Bonita then turned the classroom over to Defense Training International's (DTI) Vicki Farnam, our lead firearms instructor for the week. Vicki is a veteran police and military firearms instructor…She brought with her an eclectic and dynamic group of three additional female instructors, including a cop, an engineer and her daughter, Wendi, a rancher from Wyoming. In her familiar no-nonsense tone, Vicki told us that the week would be a tough and challenging one, but that we would 'be rewarded in the end.'"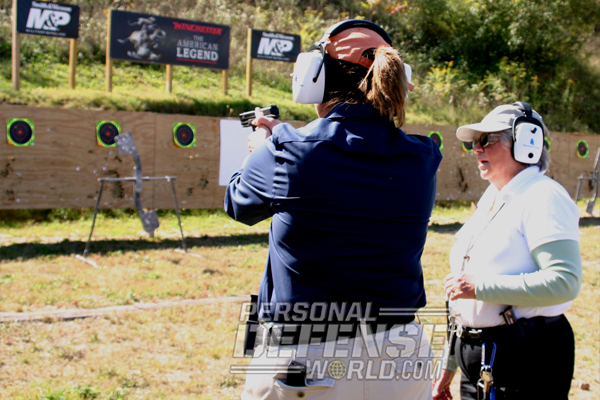 At the range, Smith describes a detail-oriented learning environment that helped even first-time shooters feel comfortable sending rounds downrange. "The staff taught us a thumbs-up way to grip a pistol, they called it 'flying thumbs,' which would become one of the familiar reminders while on the range. Vicki finds this to be a good grip for small-handed people, especially women," says Smith. "By that first afternoon women who had never touched a firearm were proudly wearing one on their hip. Hillsdale College and Vicki Farnam's staff had set the tone for success."
To read the full article, check out the May 2014 issue of COMBAT HANDGUNS, available on newsstands January 28, 2014. To subscribe, go to http://www.personaldefenseworld.com/subscribe/combat-handguns/.
– See more at: http://www.personaldefenseworld.com/2014/01/preview-self-defense-101-ladies-liberty/#ladies-for-liberty-firing-range
Here is a link is to an article posted on www.ravelingroup.com written by a young woman who attended a defensive handgun class that John and Vicki both taught in Michigan in April.
http://ravelingroup.com/wordpress1/dont-over-think-just-listen-up-and-shoot/
Recently, I spent an early Spring weekend at my very first Defense Training International (DTI) course instructed by John Farnam and his wife, Vicki Farnam. The basic DTI Defensive Handgun course was a great introduction to build a solid foundation of gun-handling skills and drills in response to prospective real life scenarios of how someone could (and should!) respond to a threat.
Regardless of whether you carry a concealed handgun every day or simply keep a defensive handgun around the house for protection, this Basic Defensive Handgun Course teaches you how to properly handle your firearm safely and competently and develop a plan of how and when to deploy your lifesaving equipment.
John Farnam Trains for Real Life
John Farnam engages his students with a mixture of witty repertoire and vast amounts of practical knowledge.  His rigorous instruction is based on his own real-life experiences as a combat tested Marine in Viet Nam, a police officer in Wisconsin and currently as a sworn deputy sheriff in Colorado.  John puts particular emphasis on safe gun-handling and defensive response techniques.  His training includes scenarios that simulate real life scenarios that may require you to shoot but also, not to shoot.  His training reinforces disengagement and awareness. The modified TQ-19 target in the photo above was specially designed by John Farnam and his affiliate instructor, Marcus Ward, for defensive firearm practice and is available through LE Targets
Vicki Farnam: Passion for Overcoming Challenges
Vicki Farnam instructs alongside her husband and also offers "Women's Only" courses. In addition to her almost 30 years as a defensive firearm instructor with DTI, Vicki is an educator and historian, Vicki leads with passion and empowers her students and fellow instructors to adapt training techniques in order to overcome physical challenges.  Vicki generously offered one-on-one instruction to me and other students with smaller body types on how best to deploy and use my handgun.  She also gave several helpful suggestions about other handguns that may suit smaller hands such as mine more than my Robar grip reduced Glock 19.
Incredibly Talented Affiliate DTI instructors
Longtime students of DTI can attain affiliate instructor status. They sometimes travel great distances to assist John as he and Vicki as they present their DTI training to civilians, law enforcement, the Military and Government Agencies throughout the US. These affiliate instructors are a huge perk in attending these courses for the student.  Taking time from their varied full-time jobs, Tommy, Steve, Jeff and Joe helped me with vigilant observation, unique insights and encouragement as I practiced the drills and skills that John Farnam demonstrated.
Student-participants at DTI courses are expected to come prepared.  I highly recommend that you put on your holster and other range gear and get familiar with how your handgun operates before attending one of the DTI handgun courses. I found it to be a huge advantage to feel comfortable handling the basic operations of my firearm because a lot of new practical skills are introduced and practiced in the short time frame of a weekend course.
Be Prepared to Work Hard
John Farnam doesn't discriminate against gender, race, age, size, or personal history.  His methodical and practical training is unbiased which is particularly great because it pushes you beyond your preconceived idea of your capabilities.
Focus on Your Success in Training
John Farnam instills in each student a serious, competent and reassuring approach to defensive firearms.  He leaves no room for complacency. This course was definitely a life-changing experience for me; the training gave me a glimpse of what I'm capable of and what I need to do to improve my skills. I learned so much more that if I just went to the range to practice my accuracy.  I discovered the basis of most of my misses wasn't due to incompetence, but had more to do with my tendency to over-think my objective. The best advice I can think to give may sound blunt but simple: Listen and shoot. Don't dwell on the misses and focus on your successes.  The Rotator® Rotary Action Steel Target pictured below is a great training aid that reinforces a focus on your success.
The best parts about the course are the teachers. The fact is that they all want you to thrive, and to the best of their abilities, they will try to get you to improve in the shortest time frame possible.
If you've been on the fence about a Farnam course, do it now. There's a series of DTI courses in Rochester, IN, May 3rd through May 10th, 2014.   I would encourage everyone to attend. I know there's still a few open spots  Call: 970-482-2520 or Contact DTI for registration and information.  Courses offered: defensive handgun, women's defensive handgun, women's urban rifle, urban rifle and defensive shotgun.
If you do decide to "bite the bullet" (pun intended) and attend a DTI Course, take time to share a breakfast or evening meal with the Farnams and the affiliate instructors.   You have an opportunity to swap experiences and gain insight about the great people teaching you.